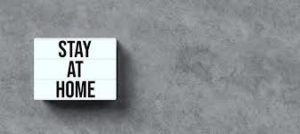 I sit writing this letter mid-April just before Easter, wondering what the month of May will hold for us as a
church and as a nation.
It's been very strange and quite disheartening us not being able to meet together, and only having conversations with
folk over the phone or over the internet. (video chats)
And I'm sure we'll all be pretty fed up by now with phrases like:
➢ Self-isolation!
➢ Social distancing!
➢ Now wash your hands!
Strings of words we'd never heard of before until just a few weeks ago! (Well, hopefully not; 'Now wash your hands!!!)
But even in this period when many of us have been spending a lot of time on our own, we've still been in the
presence of God.
This is one of His many promises to us in the Bible.
Deuteronomy 31:6 reads; 'Be strong and courageous. Do not be afraid or terrified because of them, for the Lord your God goes with you; he will never leave you nor forsake you.' [NIV] and Joshua 1:5; 'As I was with Moses, so I will be with you; I will never leave you nor forsake you.' [NIV]
So, even though there may have been times when we have felt very lonely, lost or deserted, our God has been with us.
Let us look forward with this knowledge with hope and confidence in our God.
Hopefully it won't be too long before we can meet back together as a community of God's people… if we haven't
already!
Until then, stay safe.
Every blessing,
Pastor Steve