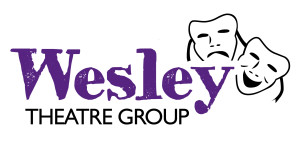 Wesley Theatre Group is an amateur theatre group.
We meet most Mondays during term time at 8pm in Wesley Hall and put on productions two to three times a year. New members are always welcome for both acting and backstage roles – just email wesleytheatregroup@hotmail.co.uk and we can give you details of our next rehearsal!
Our next production **POSTPONED**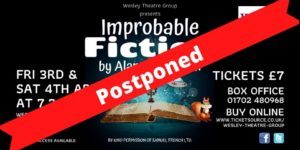 Improbable Fiction
by Alan Ayckbourn
NEW DATES TBC.
Lift access is available for all of our productions.
History and Past Productions
Wesley Theatre Group was formed in 1940 and in that time has put on a variety of productions, from plays to pantomimes and murder mysteries. Some of these include:
2019 – Bothered and Bewildered
Treasure Island
2018 – The Farndale Avenue Housing Estate Townswomen's Guild Dramatic Society Production of Murder Mystery
A Mother's Love – Radio Play
Bazaar and Rummage
2017 – Playing for Time – a 12 hour readathon
Some Anniversary
Sleeping Beauty
2016 – Sudden Death at Thornbury Manor
Busybody
2015 – The Living Room
The Hitman
Cinderella
2014 – School for Murder
Trenches to Beaches
2013 – Steel Magnolias
Who killed the Holiday Rep?
Aladdin
2012 – Who Killed the Director?
Charles Dickens Evening
Exercise in Futility
2011 – The Day After the Fair
The King's New Clothes
2010 – Tiptoe through the Tombstones
The Farndale Avenue Housing
Estate's Townswomen's Guild's
Dramatic Society's Production of 'A
Christmas Carol'
2009 – The Camel's Back
Babes In the Wood
2008 – Old Time Music Hall
Blithe Spirit
Alice In Wonderland
2007 – The Farndale Avenue Housing Estate's
Townswomen's Guild's Dramatic Society's
Production of Macbeth
Ladies In Retirement
A Night At The Musicals
2006 – Sisters
Beauty And The Space Beast
2005 – Murder Mystery
Life Begins
Lord Arthur Saville's Crime
2004 – Is There Anybody There?
Jack and The Beanstalk
2003 – Steaming
Murder Mystery
Shake Rattle and Run
2002 – Black Chiffon
Concert
2001 – Nightmare
Sleeping Beauty
2000 – The Taxpayer's Waltz
About Face
One Act plays (plays written especially for the
Theatre Group)
1999 – Big Bad Mouse
The Last Yankee
1998 – Old Time Musical
Cinderella
1997 – Death on The Nile
Aladdin