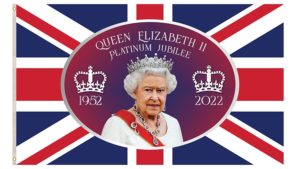 As I'm sure all of you are aware, this year we will be celebrating the Queen's Platinum Jubilee; 70 years on the throne. We will be celebrating with street parties, special concerts, community events and even an extra bank holiday! Although I wouldn't say I'm a devout royalist, I do have an admiration and respect for the Queen when I think about the events over the past 70 years she has seen our country through. If Queen Elizabeth lives for another 3 years, she will be the longest reigning monarch in history overtaking Louis XIV of France, who reigned for 72 years and 110 days.
70 years to me seems a really long time, and this feeling of duration will vary as to how old or young you are and many of you will still remember the Queen's ascension to the throne in 1952.
But of course, there is one King who has reigned longer than any earthly king or queen; the King of kings and Lord of lords, the Prince of Peace, Jesus Christ.
Earthly rulers come and go, no matter how long their reign, but Jesus reigns from eternity to eternity. The Bible says; 'He will be great and will be called the Son of the Most High. The Lord God will give him the throne of his father David, and he will reign over Jacob's descendants for ever; his kingdom will never end.' [Luke 1:32-33 NIVUK]
Also, any earthly monarch has a limited area that they rule over whereas Jesus, is the ruler of the whole world and beyond. In the words of Isaac Watts;
Jesus shall reign where'er the sun
does its successive journeys run,
his kingdom stretch from shore to shore,
till moons shall wax and wane no more.
To him shall endless prayer be made,
and praises throng to crown his head.
His name like sweet perfume shall rise
with every morning sacrifice.
People and realms of every tongue
dwell on his love with sweetest song,
and infant voices shall proclaim
their early blessings on his name.
Blessings abound where'er he reigns:
the prisoners leap to lose their chains,
the weary find eternal rest,
and all who suffer want are blest.
Let every creature rise and bring
the highest honours to our King,
angels descend with songs again,
and earth repeat the loud amen.
[CCL No. 15506]
So, by all means let's celebrate the Queen's Platinum Jubilee, that's been a huge achievement for the Queen, but in our celebrations let's also remember and celebrate the longest reigning sovereign ever, Jesus!
Every blessing,
Pastor Steve