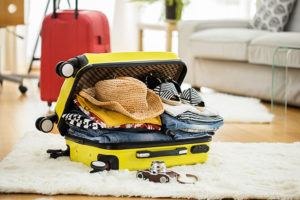 I'm sure for many of us, at this time of year, our minds drift off to thoughts of sun-soaked holidays. Whether that holiday be overseas or within the UK, one of our dilemmas is what to pack and what not to pack. I know from previous experience that half the clothes I pack for a sun holiday, I never end up wearing! Many of us are very careful with our packing, even making lists so we don't forget anything.
But we also have to make sure we pack the right things.
We don't need woolly hats and heavy coats if we're travelling to the middle east for a holiday in the sun, nor need beach wear on a skiing holiday in the Alps!
Packing the wrong things can't stop us packing the right things.
And life can be very similar to packing for a holiday.
In our 'suitcase of life,' we need to pack the things that will be useful for Christian living, even essential, and not pack the wrong thing which could push out the good important things we need on life's journey.
So, what thing do we pack in our 'life's suitcases?'
Well, 1 Corinthians 13 gives us the ideal packing list for life's journey. A list of good things we should pack, but also a list of the things we shouldn't. It reads;
'Love is patient and kind. Love is not jealous or boastful or proud or rude. It does not demand its own way. It is not irritable, and it keeps no record of being wronged. It does not rejoice about injustice but rejoices whenever the truth wins out. Love never gives up, never loses faith, is always hopeful, and endures through every circumstance.' [1 Corinthians 13:4-7 NLT]
My prayer for all of us is that we would make sure, with God's help, that we have packed correctly for life. And if we haven't, that we would allow God to work in our lives, removing the unwanted traits and behaviours and replacing them with the positive, righteous things from His 'packing' list.
So, whether you're holidaying abroad or at home, or not holidaying at all, have a great summer and remember to pack the right things for life's journey.
Every blessing,
Pastor Steve