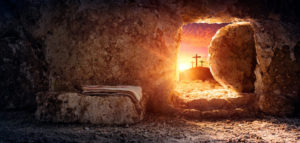 Easter, that wonderful time of the year when we can remember the sacrifice of Jesus for each of us and celebrate our risen Saviour all in the same weekend!
Unlike last year, and for those who feel they can, we are able to attend a live service in our churches on Easter
Sunday morning and thereafter, although still under the strict Covid-19 restrictions of social distancing, masks and
unfortunately, no singing still!
This may make our Easter celebrations feel a bit staid this year. It will be great to actually see each other, but it will feel different from Easter's past.
I will still be producing a YouTube service, and along with churches using Zoom for their services, we'll still be able to have a good sing at home.
This had been a very difficult year. But hopefully us returning to church on 4th April will be the start of new and
exciting things to come.
God hasn't finished with us yet!
And as we ponder what our churches will look like when we are fully open, may we pray that God would show us new
opportunities for us to serve Him in the coming days. May He open our eyes to new ministry opportunities both inside our churches, and outside.
Pope Francis once said; "We proclaim the resurrection of Christ when his light illuminates the dark moments of our
existence."
This has been a dark year, but as we celebrate the resurrection of Jesus, the Light of the World, may we shine
for Him and illumine the way for others.
Easter blessings,
Pastor Steve