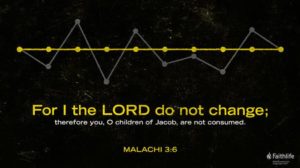 HOW THINGS CAN CHANGE IN A MONTH!
This time last month Coronavirus was something other countries were dealing with but now, we find ourselves right
in the middle of a virus outbreak and in unprecedented times.
Everyday new statements are coming out from the government and medical experts and the changes can be
difficult to keep up with let alone implement!
But amongst all this change the book of Malachi reminds us of one thing that does not change: our God. For it says
in Malachi 3:6; 'I the Lord do not change.' [NIV]
And our God will never change. He existed before time began, and He will exist long after time, as we know it,
ceases to be. He existed before the Coronavirus, and He'll exist long after the Coronavirus has disappeared.
And the same applies for God's Son, Jesus. Hebrews 13:8 says, 'Jesus Christ is the same yesterday and today and
forever.' [NIV]
And from that statement comes a wonderful hymn written by Sidney Edward Cox (1887-1975).
He's the same today as yesterday,
My great unchanging friend.
He's the same today as yesterday,
Just the same unto the end.
By his mighty power he holds me,
In his arms of love enfolds me.
He's the same today as yesterday,
My great unchanging friend.
What a reassuring truth that is, that no matter what the future holds, we can rest in the fact that our God, will never
change! He holds us now, and He will hold us in the future! So, yes, things change in life, and yes, sometimes quicker
than we can keep up. There are no constants in this world apart from God. People let us down, job security comes and goes, buildings and monuments are built and then gradually fade away over time, and even viruses come and go, but one thing remains unchanged: God.
If you are finding the changes in your life difficult to handle or to understand at this time, then cling to something that doesn't change. A God who loves and cares for you whatever the circumstances and whatever the situation. Cling to the rock which cannot move. And always remember; 'I the LORD do not change.'
If over the next few weeks, you need any help or just want a chat, please phone me and I will be happy to talk, and I
will arrange for you to be assisted as best I can.
Please remember, the Church is not confined by bricks and mortar, even though we are not physically meeting
together at the present, we are still the Church and we are still here for you.
Please stay safe.
Every blessing,
Pastor Steve