JOSEPH
Man of Faith
Looking a bit care worn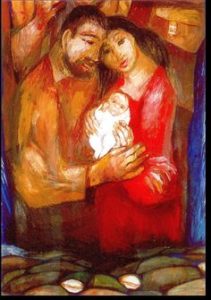 I have just come down from the manse loft after retrieving the Nativity Set and two thoughts occur to me. The first is, what a tip it is up there and how Sam and I need to get our act together and do some sorting out. The second is, that Joseph needs a polish, clean and his paint touched up – he's looking a bit care worn!
Two of the Gospel writers, Matthew and Luke, relay the story of Jesus' birth. Matthew, a Jew, writing for Jewish converts points to Jesus as Messiah and King, the fulfillment of God's promises through the old testament, from Abraham to David. While Luke, the doctor and gentile, emphasises that the good news is for all people everywhere, for every race and nation. In pulling his story together, Matthew writes from Joseph's stand point, while Luke concentrates on the experience of Mary.
As this Christmas, the bible readings set by the wider church are from Matthew's gospel, I thought it would be good to take a few moments to ponder 'care worn' Joseph and consider what a man of faith he was.
So here is Joseph, chosen by God to be head of this Holy Family. He belongs to the 'House of David' and, in Jewish law, any adoptive son legally belongs to his adoptive father's line of descent. He is an ordinary man, working with his hands as a carpenter. He is described in scripture as a 'man of honour,' (Matthew 1: ), a quality borne out by his compassionate response to Mary on hearing the news of her pregnancy. He chooses to quietly dismiss her, rather than have her face being stoned, as was the law, outlined in Deuteronomy 22. Having got his head around the pregnancy, he is told in a dream that Mary has concieved by the Holy Spirit; that she will give birth to a son; and 'you,' will call him Jesus, meaning God saves. No wonder our Joseph is looking a bit care worn.
Let's take a moment to think about the impact of this on Joseph. In light of the full gospel message, we are able to relate to God through Jesus, our friend, shepherd, suffering servant and King. Jospeh, however, had no such experience. For him, God was Yahweh, Adonai, El –Shaddai, the Lord; so holy he couldn't be named. Hence when Moses encountered him, as a vision of holiness in Exodus, his instinct was to fall on his knees and cover his face. His intial reaction was, 'not me, I'm not worthy, no one will believe me.'
It seems to me that Joseph by contrast, accepts. He doesn't understand, but he believes in God's power. It's as simple as that. He believes that almighty God has chosen him to be the husband of Mary; and father to her son. Both his and Moses' responses to God can be food for thought for us today. We can pray for a deeper understanding of the holiness of God, so that we can spiritually fall on our knees, like Moses in wonder at who God is. But at the same time, if we believe like Joseph and surrender to God, there is no limit to what God can achieve in our own very ordinary lives.
Prayer
God of all hope and all joy,
Open our hearts in welcome,
That Your Son Jesus Christ at his coming
May find in su a dwelling prepared for himself;
Who lives and reigns with you and the Holy Spirit,
One God now and forever.
(New Zealand Prayer Book)
Wishing you all the joy and wonder of the Christ child.
Rev Julia November 2016