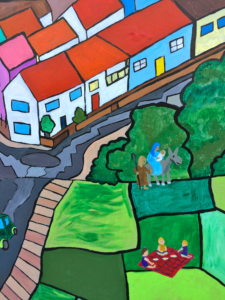 Advent Reflections 2016
 Grace: It's all God's gift
Let us give thanks to the Father for making us fit to share in the inheritance of the saints in light. In him we have redemption and the forgiveness of sins.
Colossians 1: 12-13 
Paul's message of Good News is clear. It is God who makes us fit to share in the light of Jesus' glory. We are not called to be perfect moral specimens, but we are asked to rely on God's grace and mercy that redeems us by forgiving our failings. Although we were once in the darkness of anxiety, because we thought we needed to redeem ourselves, Christ brings us light if we do our part and hand the rest over to God. Rather than become preoccupied by our shortcomings, we are able to give them back to God, who transforms them into the very light of glory.
We do not live in God's light alone; rather as God's family, we are joined forever with the living both on earth and in heaven, praising God in the light of His glory. God transforms our very loneliness, into a community of light and peace.
In the Middle Ages, Christians thought about light as being the very energy of God. They built Gothic churches with tall windows, to let in as much sunlight as they could. During the winter months, they particularly wanted to know and experience the very light and warmth of God.
Do what you can today to appreciate the light in your world. If sunshine is in short supply, light a candle and take time to be enlightened by reading something that brings peace to your spirit.
Rev Julia Dec 2016